Arrival to Edinburgh by Air:
Heriot-Watt University (1) is located on the periphery of the city (around 5 miles from Edinburgh International Airport, airport code EDI, 2) both of which have excellent transport links to the centre (3, around 6 miles). HWU can be reached by a short taxi ride from EDI if you are staying on campus, or frequent Airlink buses run to the city centre. A combination of buses (35 or Airlink followed by a 25 or 34) offers a cheaper alternative by changing at the appropriate route point (if in doubt ask the driver). Note: no change will be given on buses (Lothian Buses and Airlink charge 1.40 and 3.50 GBP single fare respectively). Hire cars can be sourced through Edinburgh International Airport.
Arrival to Edinburgh by Rail:
Visitors are advised to travel to Edinburgh Haymarket and take either a taxi or a 25 bus to HWU. Those arriving into Waverley can take a 25 or 34 from Princes Street.
Arrival to Edinburgh by Car:
HWU is accessible via the M8 from Glasgow or the A1 via the A720 ring road (see map below). Parking for visitors is located in car parks A, B and C on the detailed HWU campus map.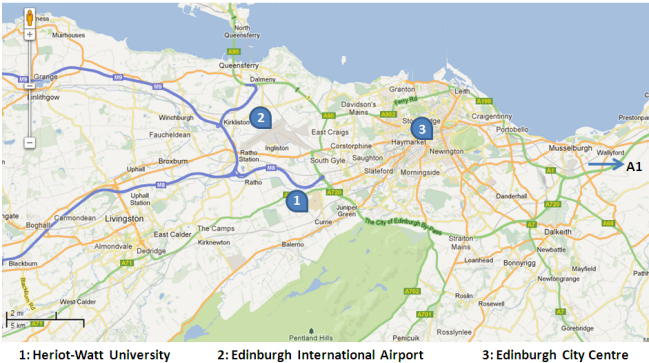 Travelling to and from HWU during the conference:
Bus tickets will be provided to delegates and depending on where you stay (if not on campus) a variety of routes can be taken to and from the city centre. Bus routes 25, 34 and 45 run frequently and night buses also run after normal routes terminate in the late evening. Other bus information is available at Lothian Buses.
Taxis (black cabs) to HWU from the city centre will cost around 15 - 20 GBP each way and can accommodate up to five people at a time.